Alta Badia: experience the emotion of the Dolomites
Welcome to Alta Badia, in the most authentic heart of Dolomites, where every place is a source of surprise.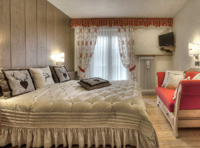 Located in the southern part of Val Badia, this land is one of the most beautiful in South Tyrol. The unspoiled nature, the characteristic villages and the imposing rocky peaks are the setting for your holiday. These particularities make it the ideal destination for those who want to spend an active holiday, or spend a relaxing time.
You will find yourself surrounded by extraordinary natural wonders: Sella Group, Sassongher, Gardenaccia, Sas dla Crusc, Conturines.
During the winter season, the 54 modern lift systems will make you fully appreciate the 130 km of snowy and well-prepared slopes. The ski and cross country ski lovers will find their ideal world here.
In summer the snow gives way to incredible landscapes and a pleasant climate: green meadows, flowers, beautiful animals and a light summer breeze will make it pleasant to be outdoor. It is the perfect season for hiking, long walks, mountain biking, golf and many other sports!
Val Badia and the Dolomites: activities for the whole family!
Alta Badia is the perfect destination for families with children. In winter, snowshoeing in the moonlight or in light of torches, fun sledging and other many activities are waiting for you. In summer the unspoiled nature is ready to be explored: two Nature Reverse Puez-Odle and Fanes-Senes-Braies offer you hectares of meadows, playgrounds and educational trails.
In Alta Badia the fun is guaranteed for the whole family!
Sport, nature and much more! Alta Badia is the cradle of Ladin folklore and traditions, which can enjoy in the best places: Corvara, Colfosco, San Cassiano, La Valle, La Villa, Badia, Pedraces, Antermoia, San Leonardo, San Martino in Badia, Armentarola e Longiarù. A wide range of activities and leisure appointments await you, during summer and winter, as well as the extraordinary accommodation capacity and the friendly hospitality of the Ladin population.
Hotels in Alta Badia: we offer you the best!
Hotels in Alta Badia offer you the best packages to live unforgettable moments during summer and winter. You can choose among the best hotels, without missing out on the last minute mountain experiences.
You can travel with your family, friends or alone. Alta Badia offers you so much activities to do. This land will allow you to live incredible experiences: you can dive into the Ladin culture staying in the traditional garnì or in mountain huts; you will have the opportunity to live a holiday in absolute freedom staying in apartments, or you will enjoy a relaxing atmosphere in hotels.
Choose the right holiday for you and book now your fantastic holiday in Alta Badia. Discover the hotels and accommodations we have chosen for you.
Alta Badia is waiting for you!