Weather forecast

Weather forecasts of today, 19.09.20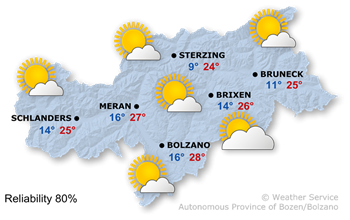 Very sunny
Weather Conditions
High pressure conditions, but more humid air in the lower levels.
Today's Weather forecasts
In the afternoon very sunny. Some cumuliform clouds will form and some cirrus clouds will move in.
Weather forecasts of tomorrow, 20.09.20
Sun, clouds an thundery rain showers
Weather Conditions
The air masses will become more humid and a bit unstable.
Tomorrow's Weather forecasts
In the morning low stratus clouds, afterwards a mix of sun and clouds with some local thundery rain showers in the afternoon and evening.
Next days Weather forecasts
Sun, clouds, some rain showers
Mon


Tue


Wed


Thu


reliability:
70%
70%
70%
70%
---
issued: 19.09.20, 11:00
© Provincia Autonoma di Bolzano