Weather forecast

Weather forecasts of today, 18.07.19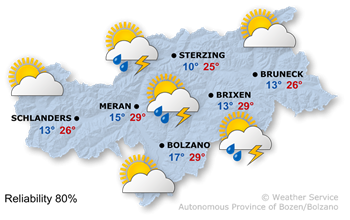 Sun, clouds, thunderstorms
Weather Conditions
Weak high pressure over Central Europe, the air masses in the Alps remain unstable.
Today's Weather forecasts
In the afternoon cumuliform clouds will develop and rain showers and thunderstorms have to be expected.
Weather forecasts of tomorrow, 19.07.19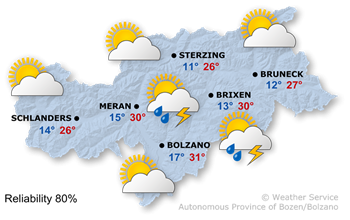 Friendly weather, rain showers in the afternoon
Weather Conditions
No big change in the weather pattern. Weak north-westerly currents with unstable air masses determine our weather.
Tomorrow's Weather forecasts
Mostly sunny with some clouds already in the morning. In the afternoon and evening again rain showers and thunderstorms.
Next days Weather forecasts
Summery, rising temperatures
Sat


Sun


Mon


Tue


reliability:
80%
70%
80%
80%
---
issued: 18.07.19, 11:00
© Provincia Autonoma di Bolzano