Weather forecast

Weather forecasts of today, 28.11.23
Sunny towards South
Weather Conditions
Northwestern currents.
Today's Weather forecasts
In the South more and more sunshine, in the North unstable conditions. During the day strong wind in the Vinschgau and Wipptal.
Weather forecasts of tomorrow, 29.11.23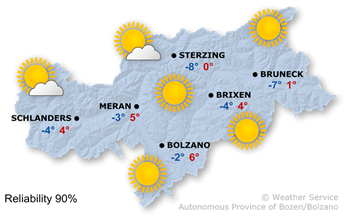 Sunny weather, cold
Weather Conditions
High pressure conditions.
Tomorrow's Weather forecasts
Sunny weather with few clouds.
Next days Weather forecasts
Thursday and Friday precipitations
Thu


Fri


Sat


Sun


reliability:
70%
70%
80%
90%
Increased cloudiness on Thursday with precipitation. Snowfall limit at first in the valleys, during the day rising on 500 and 1000 m. Friday unstable conditions and showers are still possible in places. Snow line between 500 and 1000 m. Saturday weather improvement with North Föhn. At first some low clouds, then sunny weather. Sunday sunny weather. Low temperatures.
---
issued: 28.11.23, 11:00
© Provincia Autonoma di Bolzano